INTRODUCTION
The core activities of CDL's business are energy intensive and electricity constitutes a significant proportion of our operating expenditure. Improvements in energy efficiency will thus enable us to reduce cost and improve our operational efficiency. Integrating energy efficiency considerations into the design and construction of our assets can also help to reduce the energy usage (and electricity costs) of our customers, tenants, and residents.
Lifecycle Approach of Energy Management
In 2014, CDL became the first developer in Singapore to achieve the ISO 50001 Energy Management System (EnMS) certification for the provision of property and facilities management services.
We have since continued to set energy reduction target for every investment properties we manage, whilst working towards optimising energy performance at every stage of a building's lifecycle.
Initiatives to maximise energy efficiency are applied differently across our key business units and at different stages in the building's lifecycle. Each business unit has its own specific guidelines that detail the strategic initiatives, performance standards, and specific requirements relating to energy efficiency and climate change mitigation measures. These guidelines are to be considered in the design, construction and operation of the assets.
Please slide left to view more.
Stage in Project Lifecycle
Energy Efficiency Focus
Benefits
Design

Maximise use of natural lighting and ventilation
Use of solar energy for common areas where applicable
Use of energy efficient lightings in all common areas
Energy efficient home appliances to be included in the units

Reduce electricity consumption
Reduce reliance on the grid and lower carbon emissions
Reduce electricity use through energy efficient equipment or fittings

Construction

Use of electricity directly from the power grid supply to reduce the use of diesel generators

Reduce emission levels of carbon, sulphur oxides, nitrogen oxides and particulates

Operation of Assets

Use of renewable energy where possible through installation of solar and Building Integrated Photovoltaic (BIPV) panels
Identify high energy usage installations to determine relevant initiatives, e.g. chiller upgrading or modernisation of lifts
Use of the building's computer-based energy management system to optimise chiller efficiency and Building Management System (BMS) to control key equipment in buildings

Reduce reliance on fossil fuel energy
Reduce electricity consumption through energy efficient equipment or fittings
Optimise key equipment's efficiency and reduce energy use
Energy Reduction Initiatives
Since 2004, CDL has retrofitted all our existing commercial and industrial buildings through initiatives such as chiller plants upgrading, introduction of modern sensors to reduce lighting consumption, installation of energy-efficient lighting, and recladding of facades to reduce solar heat gain. These efforts have yielded an annual energy savings of around 16.8 million kilowatt hours (kWh), equivalent to more than $3.4 million in 2017.
We remain committed to further reducing our energy consumption and improving our energy efficiency, through a number of key initiatives in 2017.
Key Energy Reduction Initiatives in 2017
| | | |
| --- | --- | --- |
| Energy Reduction Initiatives | Buildings | Savings |
| Air conditioning upgrading or improvement | Republic Plaza, City House and Fuji Xerox Towers | 381,517 kWh/year, equivalent to almost $78,793/year |
| Energy efficient lighting | Fuji Xerox Towers, City Square Mall, Tagore 23 Warehouse, 7 & 9 Tampines Grande | 70,466 kWh/year, equivalent to almost $14,553/year |
| Lift upgrading | City House | 24,850 kWh/year, equivalent to almost $5,132/year |
User behaviour has an impact on energy and resource consumption. As an asset owner, CDL actively engages our tenants on the importance of energy conservation. In partnership with Tuas Power, an Automated Meter Reading portal was introduced in 2014 for our tenants to monitor their electricity use on a near real-time basis. This empowers them to better track their energy consumption, as what gets measured, gets managed. In addition, incentives from both Tuas Power and CDL are provided to tenants who achieve substantial reductions in energy consumption.
Energy Reduction Target and Performance
Electricity constitutes a significant proportion of our operating expenditure, hence any improvement in energy efficiency will enable us to reduce cost and improve our operational efficiency. CDL set to reduce energy usage intensity by 25% from 2007 levels, by 2030. In 2017, we achieved a reduction of 23.6%, exceeding the target of 17% set for the year, and keeping us on track to meeting our 2030 targets. We will be reviewing the energy reduction target in 2018.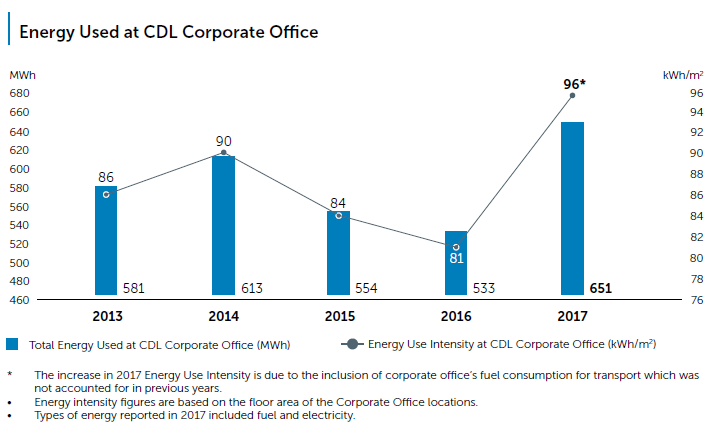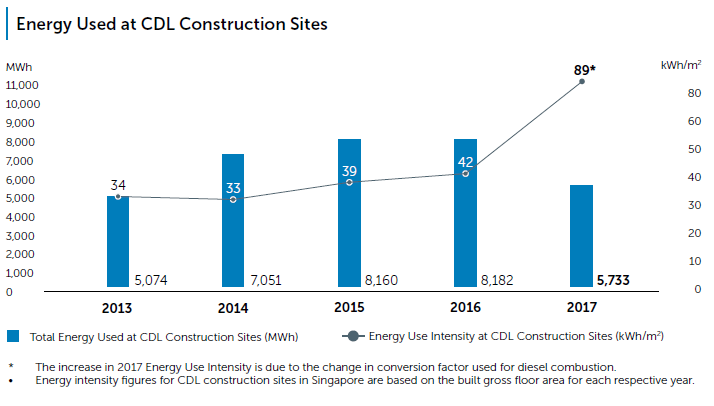 Subsidiaries' Energy Usage
Similar to our reporting scope for GHG emissions, CDL also reports on the energy data of our subsidiaries. The tracking and reporting of our subsidiaries' energy data not only ensures greater disclosure and accountability, but also enables the Group to better manage energy usage as a whole. Given CDL's strong commitment to environmental protection and energy conservation, the behaviours and practices of our subsidiaries are also of importance to us.
The following chart shows the energy usage of CDL and six key subsidiaries, namely CBM, CDLHT, CSO, Le Grove, Tower Club and M&C.